This platform two-axis servo positioner mainly consists of the welding base, the rotary frame, the
AC servo motor, the RV precise reducer, the rotary support , the conductive system, the protective
cover and the electrical control system.
The whole welding frame is made by high-quality sections. The machining was after stress relief
annealing, which ensured the machining accuracy and the use accuracy. Anti-rust appearance
paint is beautiful and elegant, and the color can be customized.
Rotary frame is made by high-quality steel section with professional machining. With standard pith
tapped hole on the surface for installing positioning tooling, it was painted after black oxidation
treatment.
The AC servo motor matching the RV reducer can guarantee high rotary stability, high positioning
accuracy, long durability and low failure rate.
The conductive mechanism is made in brass, which give perfect conduction. The foundation is whole insulation to protect the servo motor, robot, welding power, etc.
We choose Omron(Japan) PLC to control the positioner and electrical elements are all from famous
brands, which ensures the high stability and the low failure rate.
* Support Chinese/English/Japanese/Polish Spanish
* Programmable robot body , cables are made of special cables for flexible robots
* Support domestic and imported reducer mix, pure import, servo and reducer all import
* Support Chinese configurations or adopts imported reducer configurations of
NABTESCO, SHIMPO, etc
※With large working space and fast running speed, our industrial robots are ideal for welding, spraying, machine tool loading and unloading, handling, sorting, assembling
and other applications.
※Use Italian design technology in mechanical and circuit, and take in ABB wiring layout technology in our robot body manufacturing. Modular design to simplified wiring, double safety circuit design, dust protection design for electricity cabinet.
※Support single phase, 220V working voltage can be better adapted in various
environments. The robot body is with dual-circuit gas pipe and meets the welding and
handling requirements.
※Programmable robot body, cables are made of special cables for flexible robots.
※6+3 Axis (Standard 6 Axis, External 3 Axis is Optional).
※Support external PLC, arc tracking and other accessories (optional), visual software
(optional), laser tracking software (optional), arc tracking software (optional), etc.
※Support Chinese/English/Japanese/Polish Spanish.
※ Bending: can realize constant speed tracking, real-time sensor tracking, bending
following and automatic return to equality function.
※ Spaying: four analog interfaces are provided, and standard trajectory template is built in to generate spray trajectory quickly. At the same time, it supports users to build their
own spraying trajectory.
※ Palletizing: by setting the basic parameters of the size, number and number of layers of palletizing, the palletizing and disassembling functions can be realized by simple palletizing instructions.
※ Tracing: when the object moves on the conveyor belt, it can realize single tracking
(grabbing, spraying, etc.) or multiple tracking (assembling, etc.) of the product. It can set
tracking detection point, start point, end point and detection range arbitrarily.
※ Press tending: for press punching industry, a set of solutions for punching process, punching interface and punching connection are developed, which are convenient for customers to connect quickly, use simply and adjust the rhythm.
※ Pick and place.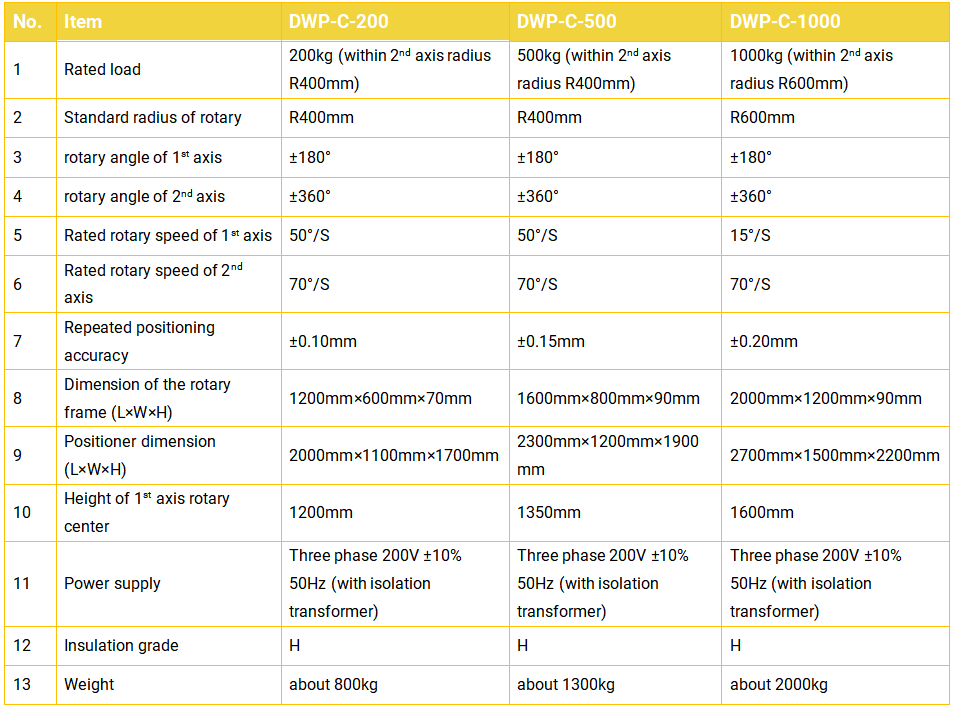 STANDARD COLOUR OF THE EQUIPMENT