Application of industrial robots
In the plastics industry
Plastic manufacturing companies design and produce high value-added products to continue to compete and conquer new markets. They are increasingly adding automated operations throughout the production cycle and seeking to reduce production time. Industrial robots are designed for the plastics industry to adapt to clean environments and provide simple, easy, and compact integration. Therefore, industrial robots are involved in increasing the added value of the product.
In the application of plastics, robots perform operations such as removing or moving parts and placing parts inside boxes quickly and accurately.
High-speed robotic solutions
For the plastics industry, robots are able to perform unloading, transfer over molding, tapping and placement of inserts or IML/IMD (In-Mold Labelling/Decoration) operations with very high precision and speed.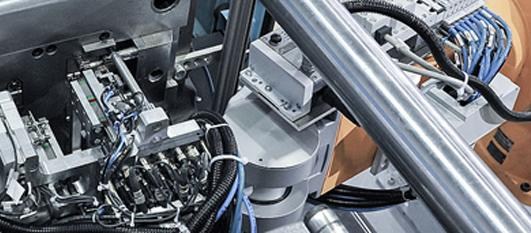 Robots perform high value-added applications in plastics, both in terms of assembly, control, ultrasonic welding, gluing, sealing, and secondary operations.
High-performance robotics
6-axis industrial robots ensure the best performance in complementary operations. Robotic arms are able to perform the following operations:
Mechanical assembly of several parts or placement of parts with or without machine vision
Laser assembly, ultrasonic, infrared welding
Gluing, sealing
Sanding and polishing part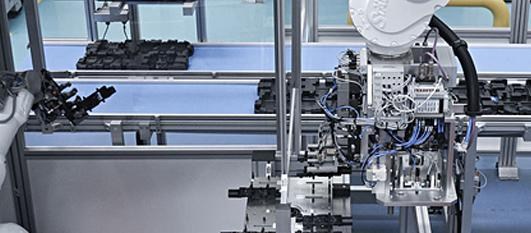 Robots that prove their worth
In the plastics industry, robots demonstrate their capacity for water jet or laser cutting operations on a daily basis. These technologies are particularly suitable for reshaping on plastic parts. In addition, all the robots in the standard range are compatible with motorized spindles on the market, for all types of re-machining, whether it is for production output or on a dedicated line.
painting robots meet the needs of automated finishing, from traditional application to electrostatic processes.
Indispensable robots for painting and decoration
robotic arms are essential for painting and decorating operations. With their closed structure and their great rigidity, our robots are indispensable in the area of painting. They guarantee high performance, accuracy and repeatability of trajectories.